Adoption of two Greyhounds (Galgos) from Spain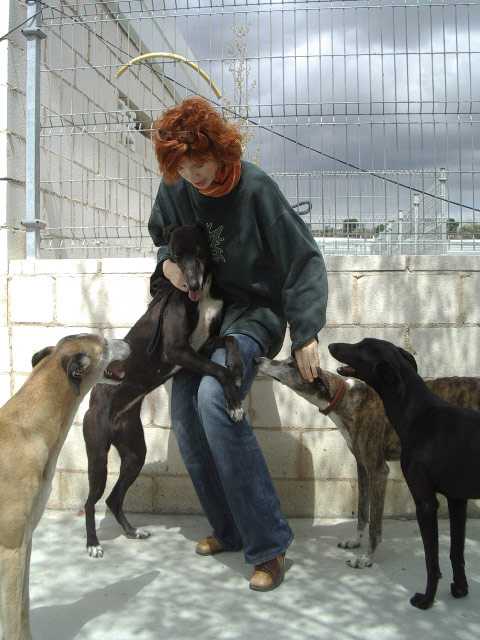 They were kept in the shelter 'Evolución' in Madrid in Spain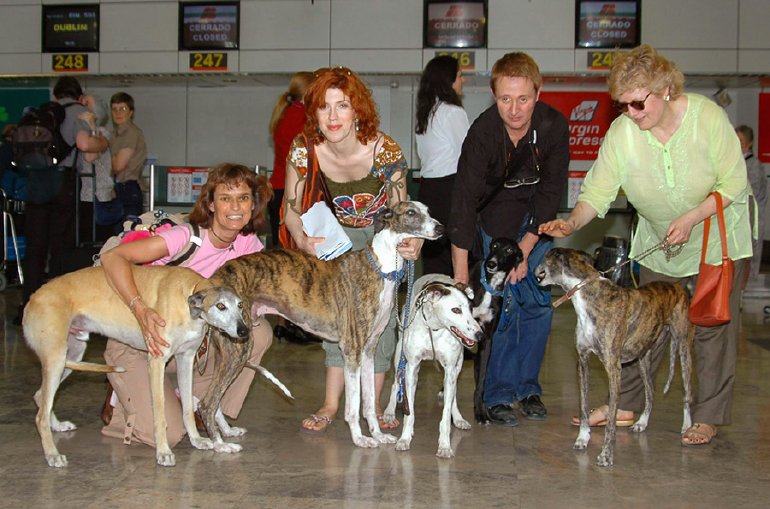 We could adopt our dogs through the organisation vzw Greyhounds Rescue Belgium.

At the airport of Madrid.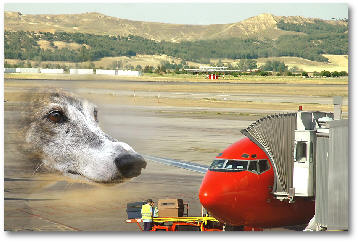 On 4 June 2005, they were flown over with Virgin Express.

You can see the transport boxes and the snout of Alejandra.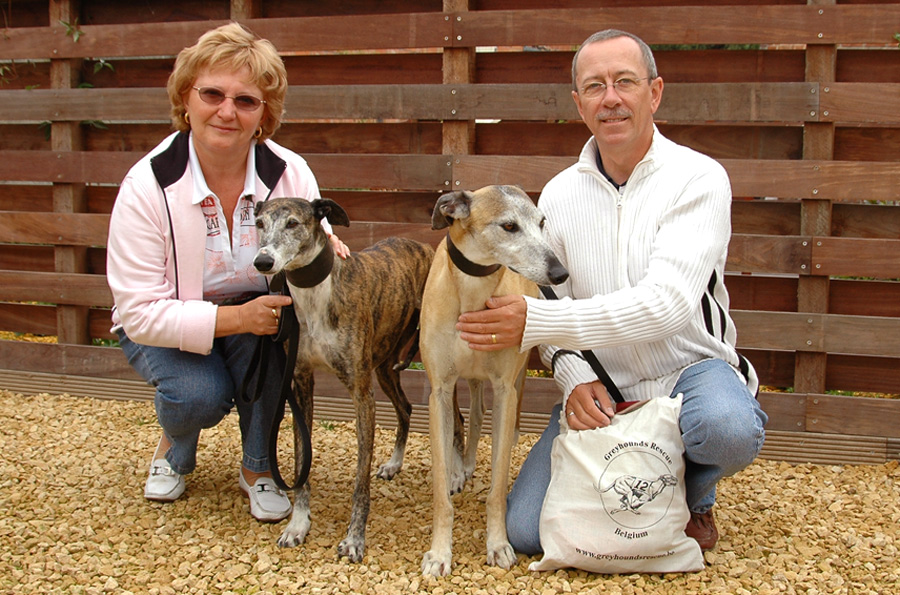 We, as proud adoption parents on june 6th. 2005.

After some days, we decide to keep the name Caifas for the male dog and to shorten the name for the bitch of Alejandra to Jandra.
Top

The two galgos at their new home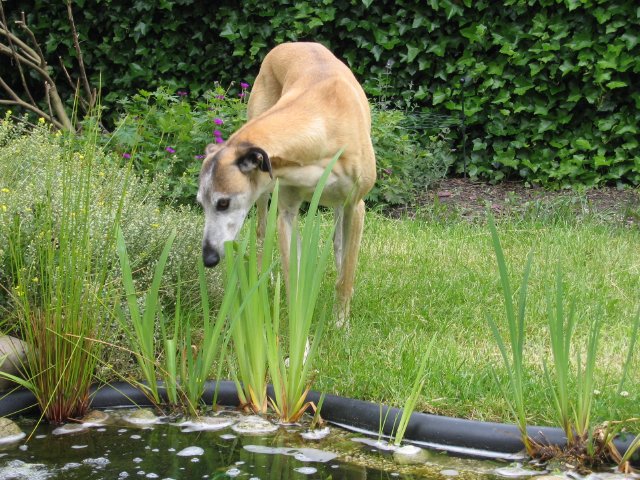 Caifas


The pond was for them apparently a large puddle water where they could walk through. They felt in there the first day of arrival already. Total unknown territory thus.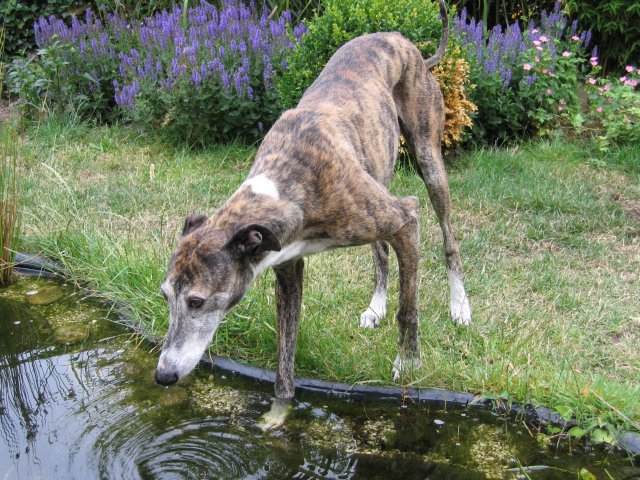 Jandra


In the meantime, they know : this is a large opportunity to drink...
Top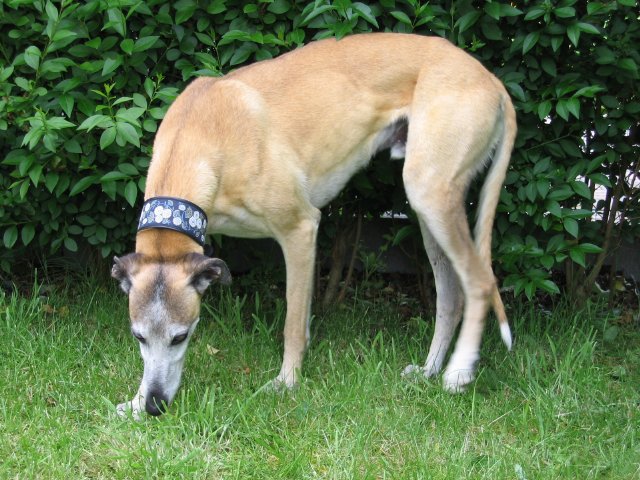 Caifas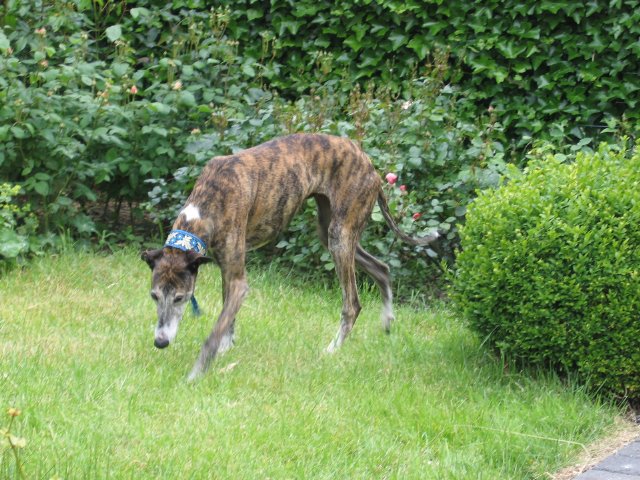 Jandra
Top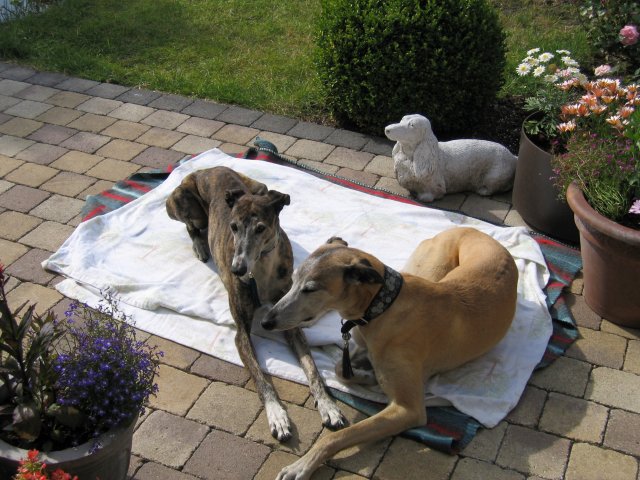 Caifas and Jandra
Galgo's are particularly calm dogs and certainly not demanding. A soft place to sleep, twice a day a meal, for example : Eukanuba


A walk three times a day is sufficient for the necessary physical exercise.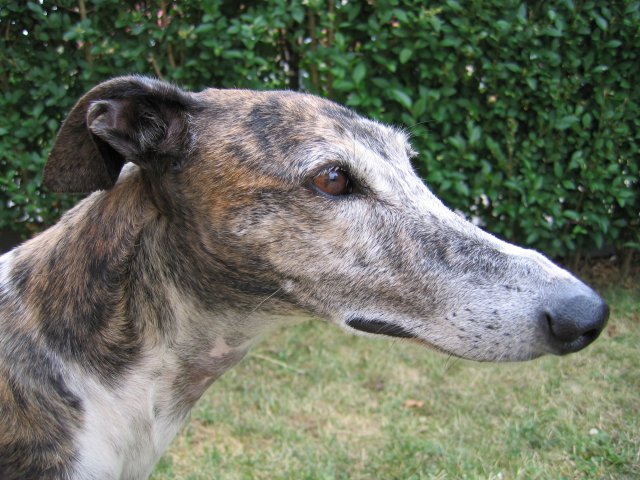 Jandra


Jandra was born somewhere in the course of the year 2000.
The right birth date is unknown. She weighs 21.35 kg.
Top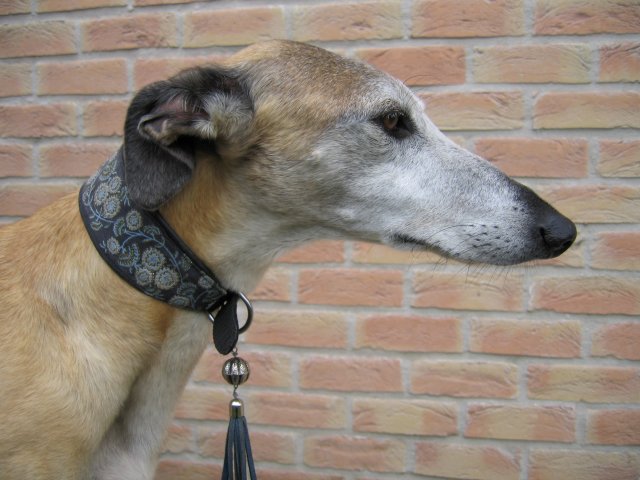 Caifas


Caifas was born on june 14th. 2001.
He is larger built then Jandra and weights 27.65 kg.
Top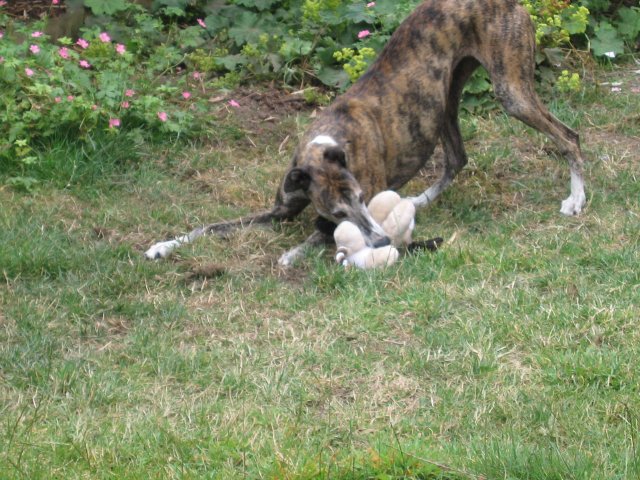 Jandra with toy
After precisely one month, they feel already at home and behave a little bit relaxed.
Roukie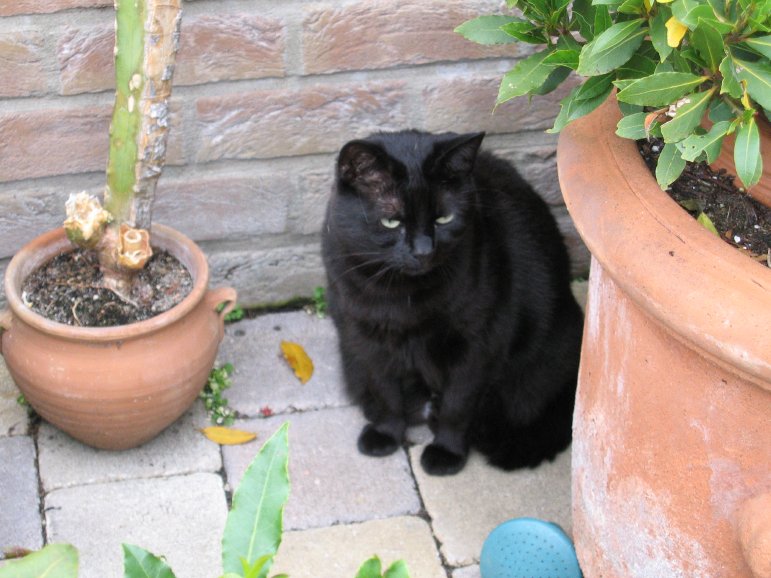 Molly
Galgos or not, I am the boss.
Strange enough, Caifas is a little bit fearfully of the pussycat and makes a large arc around it. Even Jandra is very carefull with Roukie, he allready got a few blows of our dominant cat...
Molly look at all this from a safe distance.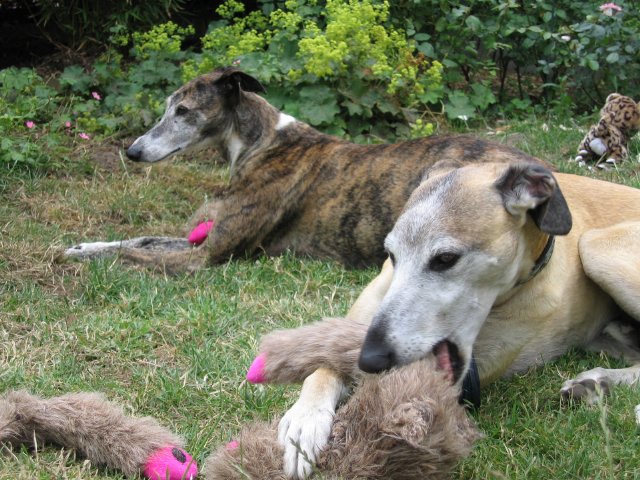 Caifas and Jandra
They are actual very affectionate after such short time. It is as if we have these dogs for several years. They are two very special dogs that we do not want to miss anymore.
To us they are a slice of heaven...
More pictures of our Galgos : visit my website Sighthounds
Read why adopt a Galgo. Visit this website :

Top

Read these books if you want to know more about the adopting of a Greyhound or Galgo :
They are written by Anne Finch from Greyhounds in need
and by Cynthia A. Branigan from make peace with animals

Pet Ownwer's Guide to the Greyhound
By Ann Finch and Steve Nash (Photographer), Hardcover
Published by Seven Hills Book Distributors, April 1998

ISBN : 1860540775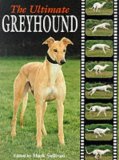 The Ultimate Greyhound
'The Ultimate' series takes the serious animal lover on a journey into the finer points of dog breeds and dog care, horses, birds and fish. Each book is written by a panel of experts who specialize in distinct areas of interest to pet lovers, including history, breeding, showing, training, and health and veterinary care. Fully illustrated and coffee-table sized, these books also make great gifts for the committed pet enthusiast.

ISBN : 1-5824-5130-3 by Sullivan, Mark (Editor).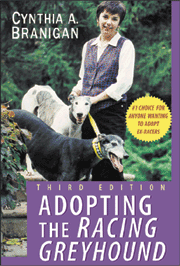 Adopting the Racing Greyhound
Published for the first time in 1992 and was the first book about this subject. It is since then a bestseller and in its third edition.

ISBN : 0-7645-4086-6 editor Howell Book House.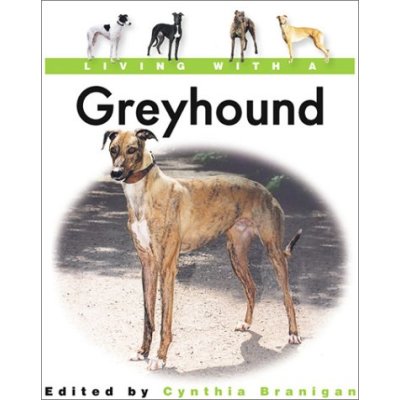 Living with a Greyhound
What's really like to own a Greyhound ? Best practical advice on all aspects of Greyhound care and training, Owners tell their own special stories of the love and companionship that has come from living with this wunderful breed.
First edition in 2001.

ISBN : 0-7641-5428-1 editor Barron's Seduc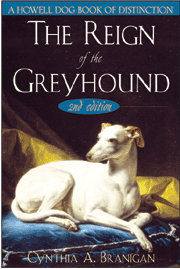 The Reign of the Greyhound
This expanded second edition offers even more breathtaking examples of Greyhounds in art throughout the ages and chronicles the latest developments in the Greyhound adoption movement.
Second edition 2004.

ISBN : 0-7645-4445-4 editor Howell Book House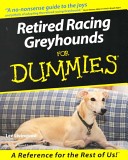 Retired Racing Greyhounds for Dummies
An absolute must if you are planning on adopting a retired racing greyhound. No other book will prepare you more thoroughly
Second edition 2004.

ISBN : 0-7645-5276-7 editor John Wiley & Sons, 2000
Top